Climate scientists across CCfCS use and develop computer models to study the whole range of physical, chemical and biological processes that make up the Earth's climate system.
Environmental Models
To help us understand how the Earth system works and to improve predictions of future environmental change, members of CCfCS work to develop and run a variety of state-of-the-art computer models in areas including:
Atmosphere: dynamics and chemistry
Ocean: dynamics, chemistry and biological activity
Land-surface: forests, vegetation and soils
Sea ice: understanding the complex processes at the atmosphere-ocean interface
Glaciers and ice shelves: their role in global sea level rise
Space weather: the effect on Earth's atmosphere
CCfCS researchers also use paleoclimate models to help unlock signals observed within sediment cores, ice cores and other preserved records to help us understand the Earth's past climate.  
A list of the computer models we develop and use, and details of who to contact for more information on each can be found here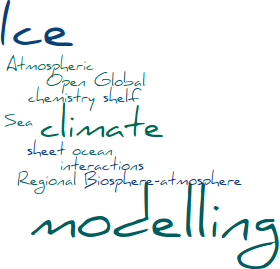 UKESM
A collaboration between the UK Met Office and the Natural Environmental Research Council (NERC) is helping to drive the development of a new Earth System Model, UKESM1. This is a truly joint effort, with many of the component systems being designed and coded by NERC research centres and University groups. This includes the British Antarctic Survey (BAS), who are playing a central role in improving the simulation of the cryosphere components (e.g., Southern Ocean, sea ice, ice shelves), and the Department of Chemistry who are building and testing the new atmospheric chemistry and aerosols component.
Of course, observational and theoretical research into the Earth system plays a crucial role in the model development process. To make sure the models incorporate the most up-to-date information from these fields, we maintain good communication channels between the CCfCS partners, and with the wider UK research community, to ensure information is passed onto the relevant developers.